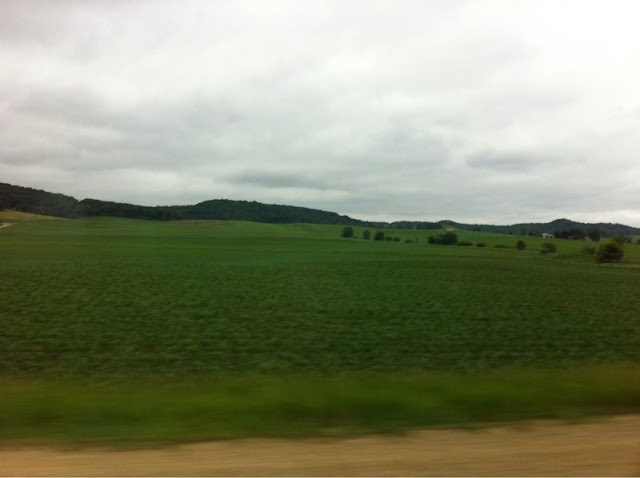 It's the first day of our trip! We woke up at 415 AM to be on the road by 5, then stopped at Mcdonald's for breakfast. Later, I woke up in the car just in time to watch Dad driving through a tollway in the I-Pass lane. We don't have an I-Pass. He and Mom didn't know that we had to stop and pay cash. We're going to get a ticket in the mail. Oopsie. I guess I should have stayed awake in the car.
Mississippi River
Lunch was at Culver's in Spring Green, Wisconsin. I slept a couple hours in the back seat, then we stopped at Dad's distant cousin Carol's house in Wesby to say hello. I hadn't been there since I was in diapers. His wife Pat was there and his sister Fay came over to say hello, also. We ate strawberry shortcake while told stories about my grandma, and their childhood, and one thing they remembered is going to a park with huge rocks that they played on. We found the park and the exact ledge that they would dare dare each other to jump over. Fay would do it but none of the boys would even dare try. It sounded kind of lame, but it was actually really cool! It's interesting to think about how those boulders got there. I bet my dad and his cousins/friends had a ton of fun playing games like Cops and Robbers as kids in the rocks. I know I would have loved it!
We ate dinner at Dairy Queen, and checked in at the Comfort Inn in Bloomington, Minnesota tonight. Tomorrow will be another driving day, and we're going to stop for the night in Fargo! Good night!